Armillariella Oral Solution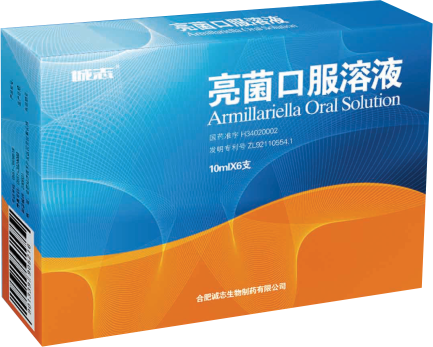 Product Characteristics
◎Stomach liver and gallbladder are treated together,recognized clinical efficacy;
◎Adjuvant treatment of chemoradiotherapy,immunity of the organism enhancement;
◎Pure natural medicine,safe and no toxic side effect; 
◎ Patented technology of solid fermentation,max phamaceutical value;

Armillariella Oral Solution
Appearance:Brown liquid.
Standard: 10ml、20ml
Package: 10mlx6pcs、10mlx10pcs、20mlx6pcs
Application:Treatment for chronic hepatitis、persistent hepatitis、chronic cholangitis、cholecystitis
、chronic gastritis、superficial gastritis、atrophic gastritis and adjuvant therapy for leukopenia caused by radiotherapy or chemotherapy.
Usage and dosage:For oral treatment.10-20ml each time and 3 times per day.
Authentication Code: National Medical Approval H34020002
Storage:Stored in a cool & dry well-closed container, keep away from moisture and strong light/heat. 
Shelf life: Three years under well storage condition.

From Myth to Science
Myth In the 1960s of 20th century,there is a sacred tree in somewhere of JiangSu province.The locals use its bark for treatment and get very good curative effect;
Discovery In 1969,Bright bacteria(Armillariella tabescens) was extracted from deadwood of "sacred tree" and it became medicinal mushroom with independent intellectual property in china;
Science Armillariella Oral Solution is refined from 100% natural ingredients extracted from armillariella cultivated by patented technology of solid fermentation with modern biotechnology production technology.Armillariella Oral Solution are national and original patent medicines which have exact clinical effect and no toxic and side effect. It is widely used in clinic for kinds of clinical departments including liver disease department、digestive department、oncology department etc.